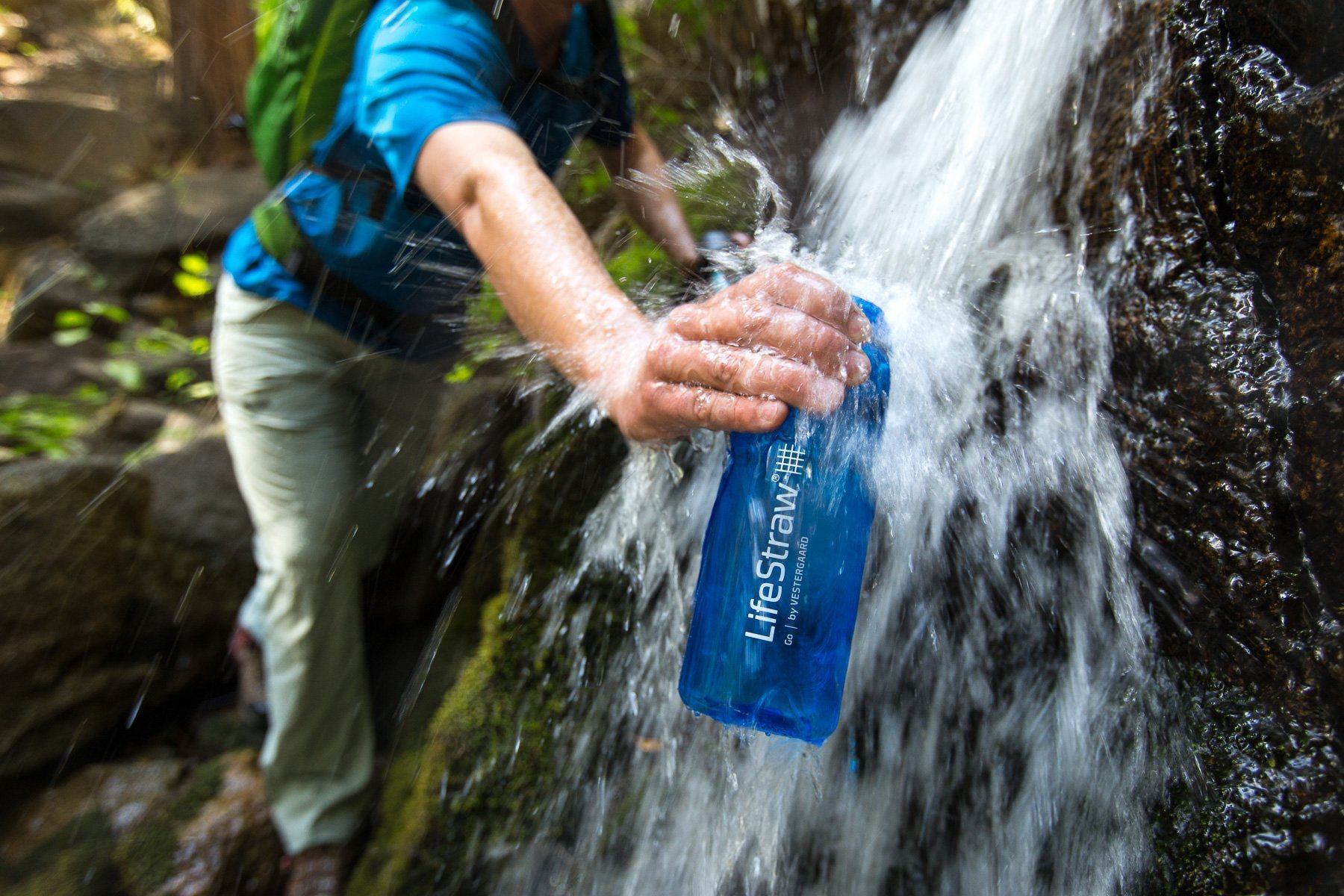 ADVENTURE
OUTDOORS
5 best waterfalls around the world – water you waiting for?
May 10, 19
Let's face it – we're fans of water. And the great outdoors. And traveling. Which is why we've partnered with Dollar Flight Club to help you discover our favorite waterfalls around the world for a fraction of the price. They help adventurers like you save 50-60% on international flights, by sending flight deals directly to your inbox, so all you have to do is choose which waterfall to go to.
Discover some of the most epic and beautiful sites of falling water recommended by some of our LifeStraw team members. Ready? Let's jet set!
The Ultimate Show: Tiu Kelep Waterfalls - Lombok, Indonesia
Photo courtesy of Mathieu
Known as Lombok's best kept secret, Tiu Kelep Waterfalls is a majestic reward after a bit of a hike located at the foot of Mount Rinjani. The entrance fee is about $0.70 USD and it takes about 45 minutes to reach the waterfall through the jungle. There's also a smaller waterfall on this hike, about 10 minutes in, called Sendang Gile, a 2 for 1 deal!
My ultimate shower after 3 days hiking around Mont Rinjani. The fresh mist provided by the waterfall gets you so wet that you inevitably want to go for the swim…very, very, very refreshing. This is the perfect getaway after [an] epic hike of the beautiful scenery that Mont Rinjani sunrise offers, the ideal place for a sip with your LifeStraw 😉. I found it to be very non-touristy as [a local photographer and I were the only people on site].

PS: It is cold, so you better have some dry clothes to put on afterwards as well as good hiking shoes to walk in the river. Mathieu, R&D

FAIRYTALES AND MOVIE SETS

:

Plitvice Lakes National Park – Lika-Senj County, Karlovac County, Croatia
You've seen the photos – the seemingly endless chain of waterfalls in a country you may have heard of via Game of Thrones. Plitvice Lakes, a UNESCO World Heritage site, lives up to the hype. The 295 square kilometer forest is known for a chain of 16 terraced lakes, joined by waterfalls that extend into a limestone canyon. The walkways are sturdily built and easy to navigate. But try to get an early start if you visit – this place gets packed with tourists.
My favorite waterfalls are the Plitvica Jezera because there's not only ONE waterfall, but countless ones embedded in a fairy tale environment. In fact, quite a few movies were shot there because of the stunning views of greenery and the azure water. Roberto, European Sales

CHAIN LADDERS AND SOARING HEIGHTS

:

Tugela Falls – Drakensberg Mountains, South Africa
Most people know about Victoria Falls but not many have heard of Tugela Falls even though it's the 2nd highest waterfall in the world (and there is some debate that it's actually the tallest). It's nestled in the Drakensberg mountains – an impressive mass of vertical cliffs with a highest point over 11,000 ft about a 4 hour drive south of Johannesburg.
I hiked to the top of Tugela Falls with a classmate of mine while we were studying abroad in South Africa. What I love about Tugela and the Drakensbergs is that they are pretty low trafficked and pretty wild. You won't find luxury hotels or lodges, nice restaurants or souvenir shops, but you will find some amazing hostels and camping spots. The hike that takes you to the top of the falls has two routes and you can drive part of the way. One of the routes includes a set of chain ladders over some cliffs that we got caught on in a thunderstorm. When we made it to the top of the falls, we couldn't see anything that day because of the storm, but that's part of the adventure. You can also see the falls from the valley on a clear day. Wish I had a LifeStraw back then – there wasn't much potable drinking water around. Tara, Head of Brand

SO MANY RAINBOWS: Horseshoe Falls – Ontario, Canada
Horseshoe Falls makes up a section of the infamous Niagara Falls along the Canadian side of the New York-Ontario border. Also known as Canadian Falls, it is the larger of the three waterfalls that make up Niagara Falls. Don't miss out on the Journey Behind the Falls and the Maid of the Mist boat ride to get super up close and personal with these powerful falls.
I loved it because it was one of the loudest, scariest, most exciting, and beautiful things I've ever experienced. Plus, I saw rainbows everywhere. Tiffany, Customer Happiness Manager

NIAGRA OF THE WEST

:

Shoshone Falls – Twin Falls, Idaho
Shoshone Falls is a waterfall on the Snake River in Southern Idaho in the United States. It is frequently referred to as the "Niagara of the West" because of its incredible height – 45 feet higher than Niagara Falls. Best time to visit is in the Spring, as diversion of the Snake River can diminish the water levels in the late summer and fall. There's a $3 vehicle fee from March 30th to September 30th.
I stopped here while on a road trip en route to Boise, Idaho and it was SO worth the trip! The views are incredible, and the falls are super accessible to people of all ages – even dogs are allowed! Unfortunately, there's no hike involved but it's still a must do when you're in Idaho. Kelly, Social Impact Program Officer
Now that you've added these to your bucket list, let Dollar Flight Club help cross them off the list for you without breaking the bank. Be sure to pack your reusable filtered water bottle so you can fill up straight from some of Earth's largest natural faucets. Turn your existing reusable water bottle into a filtered one with the LifeStraw Universal or bring a LifeStraw Go or Flex so you can drink safely in the great outdoors. Water you waiting for? Get out there and go! Safe travels always.
Have some favorite waterfalls of your own? Be sure to share your adventures with your LifeStraw by tagging us in the photo and caption and include #LifeStraw on Instagram.