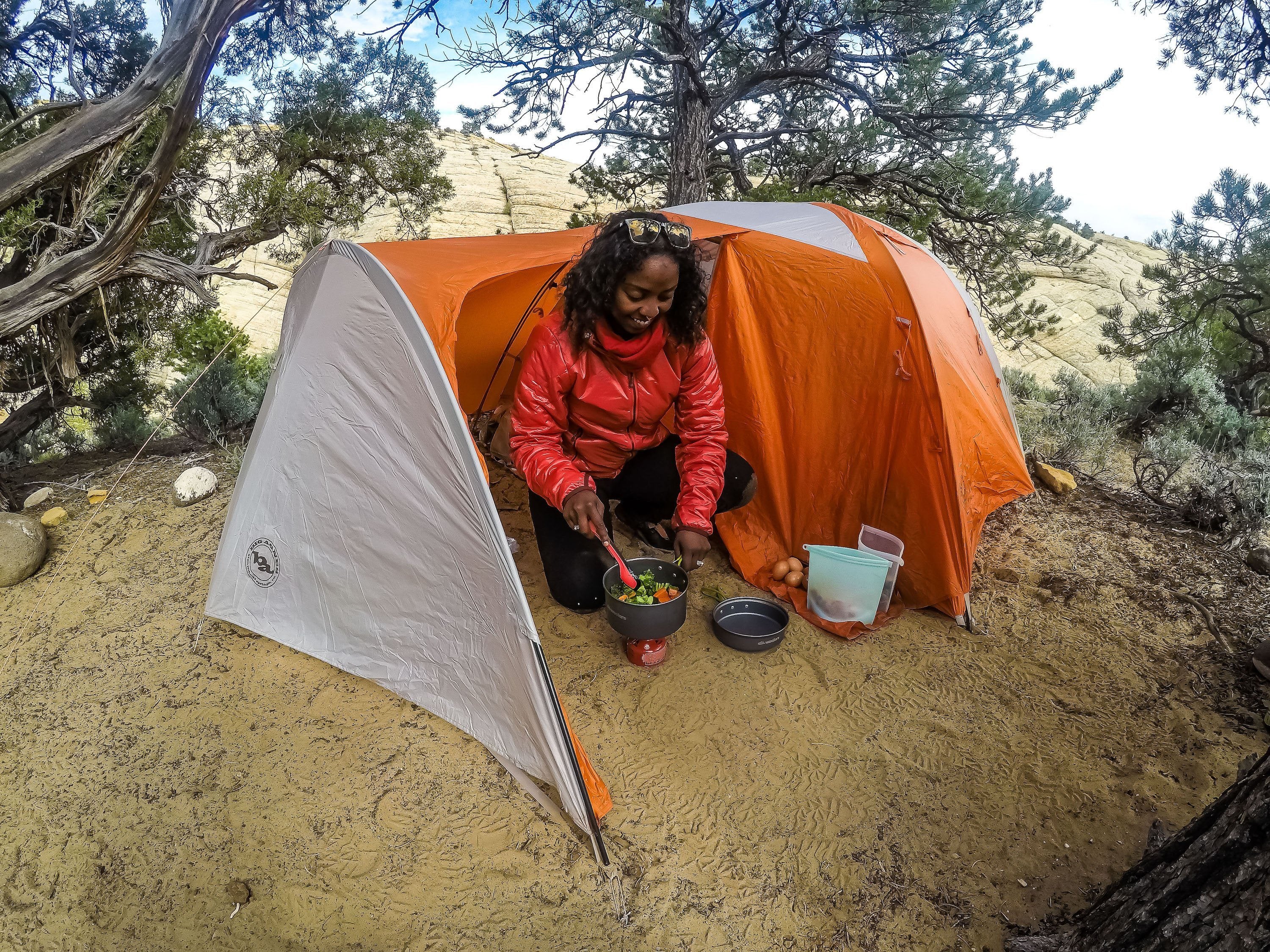 ADVENTURE
OUTDOORS
A Guide to Low-Waste Backpacking
February 07, 20

Whether you're a beginner backpacker or know the backwoods like the back of your hand, there are a few questions you should ask yourself before setting off to commune with Mama Nature!

Where will we go? This one's a definite, it's hard to make a plan if you don't know where you're going. The next and less obvious question, how will we deal with the inevitable waste we produce when we're out in nature - both our trash and human waste?

The zero-waste movement is growing in popularity, with more and more folks becoming conscious of the waste they produce. The goal is to send as little as possible to the landfill. And while many people, like us, have already made the switch to low-waste homes, there's one important part of low or zero-waste living that is often overlooked - how to do it when you're recreating in nature?

My husband and I moved into our van nearly four years ago because we wanted to be closer to nature. Not long into our life on the road, we made the shift to low-waste. But we realized that whenever we loaded up our packs and hit the trail, our waste-free principles went out the window. So we challenged ourselves to do better.

Last summer we experimented with zero-waste backpacking trips. As it turns out, there was a bit of a steep learning curve. It required a lot of planning and prepping - making lists, reevaluating our gear. It also meant obtaining a level of awareness about our waste consumption that we'd never had before. Of course, we could have just done it the way we always had, with convenient pre-packaged meals, snacks, and single-use products. But all that waste adds up.

In the end, we learned the importance of planning ahead, recognizing that waste begins with the choices we make as consumers. This is especially true for single-use plastic, which inevitably ends up in landfills or in our oceans - and it will outlive us all.

In this post, we break down how to plan and prepare for a 3-day, low-waste backcountry backpacking trip. By following our guide you'll feel more organized, confident, and less overwhelmed with the process as you plan for your next adventure. And the best part, you can feel good knowing you're being proactive in taking responsibility to keep our treasured places clean and natural.

It's important to note that not everyone has the privilege nor the access to choose zero/low-waste, and that's okay. Low-waste living and recreating is largely dependent on access - access to quality gear, bulk shopping options, and low-waste products. Wherever you are, I encourage you to adapt this guide to your life as best you can. Remember, low-waste is a journey, and there's no wrong way to do it. So explore this guide and apply it to your next adventure, knowing you'll be prepared to minimize the amount of trash you bring into the back-country.
Prepare to Minimize
Minimizing our waste starts with a good plan
The goal: to minimize or eliminate our waste from prep to return. The market is flooded with convenient dehydrated backpacking food options, but their single-use packaging can add up to a pile of non-recyclable waste. With a little planning and some work on the front-end, you can immerse yourself in nature without the waste!
Meal Prep & Planning
If you're anything like us, the first thing you think about when preparing for a backpacking trip is food. (Honestly, food is usually the first thing on our mind whether we're going on a trip or not).

Make a list and check it twice, or at least review it to make sure you're happy with it. Trekking into the back-country doesn't mean you have to sacrifice your health or your taste buds. If you plan and prepare your meals in advance, you can make sure you're getting proper nutrition and focus on keeping your pack weight down. When we're in the back-country, we'll typically cook breakfast and dinner, snacking throughout the day to keep our bodies fueled on the adventure. So that's how we break up our meal plan - breakfast, dinner, and lunch/snacks.

Shop smart and ditch the packaging. Bringing all of your unprepared grub in its original individual packages just creates more opportunities for waste and adds quite a bit of weight and/or bulk to your pack, which is never good. Hit up the bulk bins at your local store with a reusable cotton bag or two, you can stock up on low-mess, high-energy snacks like nuts, GORP, or dried fruits without having to worry about unnecessary packaging.
Backcountry Meal Tips & Ideas
Snacks:
Homemade energy bars or dried fruit make for a quick and convenient pick-me-up and can be stored in reusable food wraps or silicone reusable bags and stored in lightweight stainless steel containers for additional protection in your pack (more on that below).
Mixed nuts, dried fruit, apples & cheese make for great snacks on the trail and at camp.
Breakfast:
Loose tea and/or coffee. Pro tip - wrap each serving of coffee grounds in a coffee filter before you go and tie the ends with a string, then just dip in a cup of hot water like a tea bag and let it steep. No mess and easy to pack out.
Bonus: opt for reusable coffee filters!
Boiled eggs, pre-cooked bacon, avocados - quick & easy breakfast.
Dry oats - light-weight for the hike in, just add water or fresh ground nut butter - buy in bulk.
Lunch:
These quick & easy options make for excellent mid-day fuel on the trail:
Dried hummus (delicious!), olive oil in a plastic water bottle, sun-dried tomatoes, cucumber, pita bread.
Portobello Mushroom rainbow sandwich.
Cheese & tortillas stored in a reusable sandwich bag.
Dinner:
This is where we like to get creative, a few pre-cooked items from home and some dried, just-add-water staples to supplement:
Homemade burritos with flour tortillas, home-cooked beans & rice, avocados, cheese, cabbage, or whatever else your heart desires - wrapped in beeswax wraps.
Grains like quinoa, couscous, or quick rice are easy to cook on a camp stove. Adding some fresh veggies like pre-sliced bell peppers, carrots, roasted chicken breast, etc. and olive oil can make for a nice hot meal at camp.
Food Storage
Drink storage
Water - Now that we've covered all things food, the next thing we need to think about is water. This one doesn't typically generate much waste, though I have witnessed someone in the backcountry carrying a plastic gallon jug of water - that's obviously not ideal. For us, this one is all about weight. How much water you carry is entirely up to you and dependent on where you're hiking. I recommend carrying a solid water filter as well. We never hit the trail without our LifeStraw Go resuable water bottles. The built-in filter means we can fill it from literally any water source and keep on rolling. For water at camp and filling our bladders we carry the LifeStraw Flex with 1-gallon gravity bag. It's compact, lightweight, and gives us enough water to stay hydrated for long stretches in between watering holes. And we keep an Original Lifestraw personal filter in each of our packs and one in every getaway bag we have, they're a perfect emergency stash. And if great gear wasn't enough, this incredible company was built on a foundation of giving back. With every product sold, LifeStraw provides clean drinking water for children around the world.

Wine & Liquor - Alright, you're well-fed and hydrated, so why not enhance the campfire with your favorite libation. A Platypus wine flask is lightweight and travels well, plus it holds a full bottle of wine. If liquor is more your jam, the Platypus works for that as well, or go with a good old-fashioned hip flask. Whatever you do, leave the wine and liquor bottles in the recycling bin before you hit the trail, save the weight and the waste.
Other Liquids
There are some great backpack friendly containers on the market, like Gossamer Gear travel bottles. These bottles are ideal for storing bug repellent, sunscreen, soap, oil, hot sauce, or whatever else you can think of.
Toiletries
The type of toiletries we use in the outdoors is often overlooked, but they produce waste that can be detrimental to the environment. Many contain microplastics and harsh chemicals that can harm wildlife and pollute waterways. Animals, especially bears, are attracted to the scent of toiletries, so we choose to leave most of it behind. Deodorant, soaps, lotion, toothpaste - you're deep in nature so why not embrace it and go au naturale? I recently read that you don't even need toothpaste to remove dental plaque, just soft brushing twice per day will do the job.

What we do bring is an all-natural, fragrance-free non-nano zinc oxide sunscreen. For insect repellant, we use lemongrass essential oil, and when the mosquitoes get thick, our backup is an all-natural, deet-free insect repellent spray.
Gear
Ditch the disposables! When it comes to low-waste backpacking, there's no substitute for quality gear. This is especially true for electronics. A good headlamp is essential on a multi-day trip, and you'll likely want some light in your tent or at the campsite. Opt for rechargeable lights and ditch the disposable batteries, they're inefficient and produce some gnarly waste.
Human Waste
Everybody poops, even in the woods. Pack a trowel, and when it's time to go, choose a spot at least 200 feet from camp, trails, and water sources. Dig a hole at least six inches deep, and keep your dug up dirt in a nice pile next to the hole. When you're done, cover it with the dirt you dugout. Disguise the dig site with leaves, sticks, and other natural debris to leave no trace. Remember to pack out your toilet paper, even the biodegradable kind. Or forego the TP altogether and use leaves or sticks.

Menstruation products - If you haven't adopted a menstrual cup into your routine, I highly recommend it. It's hygienic and waste-free. For a post-session cleanse, wash with a small piece of natural soap and water, or give yourself a pump of natural moisturizing hand sanitizer when a full wash-up isn't an option.

Pee cloth - Ladies, leave the TP at home. Kula Cloth is a great alternative to TP. It's antimicrobial, easy to carry, and the colorful designs add a bit of flair to your pack.

Pack it ALL out - A reusable dry bag makes a great trash bag (or dirtbag as we like to call it). Something we always do on the trail is collect any trash we encounter along the way - this is where our 'dirtbag' really comes in handy. It feels good to leave a place better than we found it.
It's all about the journey, y'all
A low-waste backpacking trip requires more work on the front end. But if you put forth the effort, the result is a lighter pack, a big reduction in waste produced (meaning less waste to pack out), and more time enjoying the trip. What we loved most about our summer of low-waste was the intentionality that went into the process. It was certainly in-line with the main reason we love living in a van, it simplifies the way we do things. Plus it feels great knowing we were doing right by Mama Earth.

Noami Grevemberg is the voice behind @irietoaurora and the founder of @diversify.vanlife. She is a digital nomad, eco-vanlifer, and social activist, who has been living on the road with her partner in their 1985 Volkswagen Westfalia for nearly 4 years.