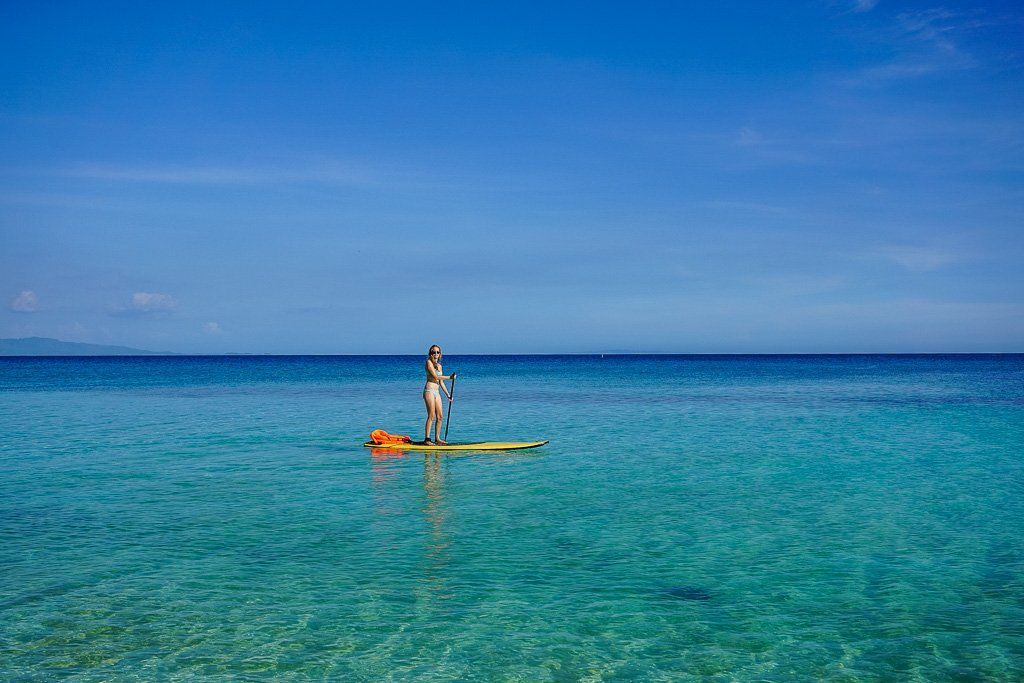 LIFESTYLE & ADVENTURE
5 Water Adventures to Have this Summer
July 16, 19
Written in partnership with bloggers Jules and Christine of Don't Forget to Move
Now that it's summer, we're inspired to find all sorts of ways to have some fun in the water. Whether you're thinking about an international adventure, or can only fit in a long weekend getaway, here are our favorite water adventures near and far that will be sure to spark some inspiration for planning your perfect trip. And to make sure you're staying hydrated throughout the day, by sure you bring your favorite LifeStraw bottle, so you can stay energized while on the water!
White Water Rafting
Adrenaline junkies looking for an exciting and refreshing summer activity should hit the rapids for some white water rafting. From beginners to the experienced, you can always find some fun in the rapids to suit all abilities. For the easier rapids, like the class 1 and 2's, you can rent your own raft and paddle through the water on a self-guided tour. For the more difficult rapids, like class 3 and above, you'll probably want to connect with a tour agency and go with an experienced leader. They'll know how to navigate the river, so you don't end up out of the raft tumbling down the rapids.
Best Spots for White Water Rafting
Lancaja River, Mexico - This fun river that cuts through southern Mexico isn't made up of rapids, per se, but actually a series of small waterfalls! There are small rapids along the way, but the the real fun is plunging off 10ft drops. When you're not navigating the bumping ride, be sure to look around at the gorgeous jungle enveloping the river.
Colorado River - The Colorado River meanders through the Grand Canyon and is one of the world's most famous river rafting spots. The river can get pretty gnarly at parts, so you definitely need to go with a tour. Going on a multiday trip means camping on the banks of the river, with nothing but the cliffs surrounding you and a bright sky of stars above you.
Water Skiing
An old summer favorite, water skiing is a blast when you're spending a day at the lake, or better yet, doing some lake camping! Even when it's not your turn on the skis, it's relaxing to kick it in the back of the boat and soak up the sun. Prepare yourself with a cooler full of beers (always have a sober designated boat driver!) and you're good to go!
If you're more of a snowboarder when you hit the snowy slopes, you may find wakeboarding a bit more thrilling than water skiing. Most water ski rental shops carry wakeboards as well.
Best Spots for Water Skiing and Wakeboarding
Lake Havasu, Arizona - Arizona is known for its incredible outdoor beauty and variety of summer activities. Although you may associate the state with the dusty, dry desert, it's actually home to the beautiful Lake Havasu, one of the best spots in the US for waterskiing. You can rent boats and skis from one of the outfitters on the lake.
Lake Bled, Slovenia - Ignore the somewhat disturbing name for this lake, because it is truly a hidden gem in Europe. Not only is the water a stunning blue, but right in the middle of the lake is an island with a castle on it! When you're ready for a ski break, you can visit the island and check out the beautiful views from the castle.
Water Tubing
The laziest, but perhaps the most fun, of water sports has to be tubing. All you have to do is grab an inner tube and float wherever the water may take you. Grab some friends, hop on a lazy river and cruise with some summer tunes on your waterproof speaker. Plus you can let your creativity soar by choosing a tube that matches your personality! Feeling like a rainbow unicorn? How about a giant pineapple? Whatever floats your floatie!
Top Spot for Water Tubing
Kauai, Hawaii - There are few places in this world as lush and green as the island of Kauai, which makes it the perfect place for river tubing. Float down the Hanamaulu irrigation system that once provided water to the sugar cane fields. Now it serves as a series of waterways for your tubing adventure! It's a gentle ride that will have you surrounded by incredible views of the island's emerald mountains.
If kicking back on a floatie and spending a lazy day on a river doesn't sound thrilling enough for you, you may want to up your tubing game. Attach your inner tube to the tow of a speed boat and hold on tight! This activity can be pretty risky if the boat driver is going fast, so make sure to wear a lifejacket and follow safety precautions!
Top Spot for Boat Tubing
Lake of the Ozarks, Missouri - If you're visiting Missouri in the summer, be sure to plan some water activities to escape the humid heat! Tubing on the Lake of the Ozarks is a perfect way to take a refreshing, and exhilarating, dip in the afternoon. This lake is particularly fun because of its snake-like shape, with lots of little meandering coves that offshoot from the main lake. The shape creates roughly 1,150 miles of coastline, longer than the coastline of California!
Stand Up Paddle Board
Looking to get a little workout in during your summer vacay? Stand up paddle boarding is perfect for when you want to get a little bit of a sweat on, but you still want to relax because... hello, it's your summer vacation! Whether you want to stay on water as calm as glass, or challenge yourself to some waves, you've got options with stand up paddle boarding.
Top Spot for Stand Up Paddle Boarding
Kalanggaman Island, Philippines - This tiny sandbar island, off the coast of Leyte, is perfect for giving SUPing a whirl. Yes, it is the ocean, so you'll be taking on a small wave, but the waves are gentle and won't knock you off your board (I promise!) The island is true Philippines paradise, with soft white sand, bright turquoise water and palm trees. Underneath your board you'll find some of the clearest water you've ever seen. Even if you do lose your balance and end up overboard, you'll be happy to land in the refreshing blue ocean!
The Maldives - Literally look at a map of the Maldives, drop a pin and if you go there I guarantee you'll find an amazing little island to enjoy stand up paddle boarding. The Maldives exists to be a water adventurers paradise, with world class surfing breaks dotted throughout the archipelago.
SUP Yoga
Now before you dismiss this as another fad like goat yoga or pinot & pilates, yoga on a stand up paddle board is serious business. Staying upright on a SUP board while you practice your downward dog is a challenge. If you're a beginner yogi this may be a really challenging activity. Get ready to engage those core muscles! Even if you're a yoga veteran, you'll find the challenge of balancing on a wobbly board forces you to slow down your practice and focus on each posture.
Top Spot for SUP Yoga
Florida - Florida is another summer destination where you want to make sure you've got some water sports planned to ditch the heat. There's no shortage of lakes in this beautiful southwestern state, but Western Lake in Grayton Beach is a good place to start. This dune lake is peaceful and surrounded by marshland. As you paddle along be sure to keep an eye out for wildlife in the marsh. The calm water is the perfect opportunity for you to try that crow pose you've finally mastered on land. When you've worked up an appetite you can make your way back to shore for a picnic by the lake.
Whether you'll be dusting off your old set of water skis or investing in a 10 foot unicorn floatie for you and your 5 closest friends, you'll want to make sure you're getting in the water this summer. And with all this fun in the sun, comes the risk of dehydration. Packing a LifeStraw Go bottle along your travels means you never need to go without safe, filtered drinking water. Whether it's taking a sip from the river while tubing, or filling up your bottle while skiing across the lake, be sure to stay hydrated this summer!
Jules and Christine make up the team at Don't Forget To Move, a blog that specializes in promoting responsible tourism and inspiring adventure travel around the world. They write about authentic travel experiences and help you get off the grid, have an adventure and do it in a sustainable way. Follow Jules and Christine on Instagram and Facebook.