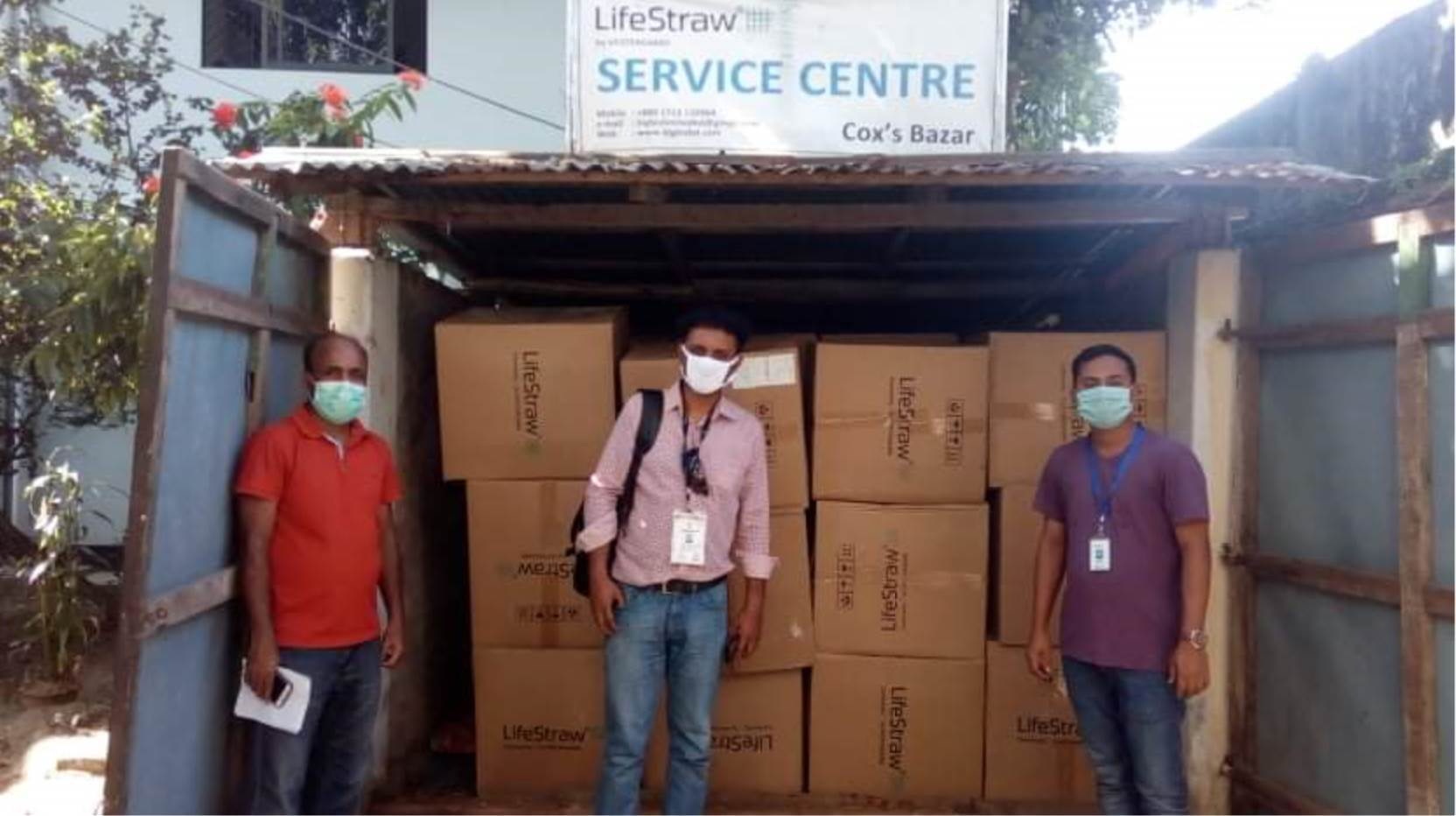 SOCIAL RESPONSIBILITY
LifeStraw Mid-Year 2020 Impact Report
July 29, 20
Be Like Water
The first half of 2020 has been [insert your own expletive]. Like the rest of the globe, our team at LifeStraw has had to adapt to a new way of life. We've had to be nimble and responsive to ever-changing local and global issues, and flexible and creative in the ways that we implement our impact work. But, LifeStraw prides itself on being a company that's not afraid to take on a challenge, especially in the fight for good. So over the last 6 months our impact work has increased, because so has the need. Without our vast network of incredible local staff and local partners, our work in times like these would be impossible. Thank you to all those individuals and organizations that are doing good, making change and providing access to safe water despite a global pandemic and in some cases because of one.
Give Back Program
For every LifeStraw product sold, a child receives safe water for an entire school year. By the end of 2019, we had reached over 3 million kids with a year of safe water. We were lucky enough to carry out our annual campaign in Western, Kenya before the worst of the pandemic struck. In February 2020, we installed 1,088 new LifeStraw Community purifiers, in 165 new schools, to provide 115,081 additional kids with one year of safe water and WASH education. For each school that LifeStraw provides products to, we make a five-year commitment, including monthly school-visits to ensure proper filter function and use, and on-call support for repairs, spare parts or new products, when needed. This year, we recommitted five years to our first cohort of schools – ensuring that those 300 schools, and 150,000 kids, have access to safe water for five more years. The 26 top-performing schools also received an award (of their choosing) during the 2020 Give Back campaign, including 84 kids with new shoes, 23 large rainwater harvesting systems and a bookshelf and security gate.
Local team and partner highlights: Thank you to our amazing local staff of 40 Kenyans that again hosted the global LifeStraw team and our partners this year and always does the heavy lifting of education in Swahili at the schools!
Disaster Response
In 2019, we committed to continue responding to as many natural disasters and emergencies as possible, with a goal of having boots and product on the ground within 72 hours. COVID-19 has made both human and product mobilization even more difficult in response to disasters. It has also exacerbated their impact, especially on already at-risk communities, where budgets are stretched thin and social distancing has constrained a lot of disaster response. LifeStraw has partnered with a number of truly amazing organizations, to get safe drinking water to affected communities.
Puerto Rico


Photo Credit: Tara MacDowell (LifeStraw)
On December 28, 2019, Puerto Rico was struck by an earthquake that sent dozens of panicked citizens into the streets. For weeks and months following, the southeastern corner of the island was hit by thousands of subsequent quakes, including a magnitude 6.4 earthquake that occurred on January 7, and six others of magnitude 5 or higher. The quakes have wreaked havoc on communities that are still recovering from the devastation caused by hurricanes Irma and Maria in 2017, challenging both the integrity of the island's infrastructure, as well as its overwhelmed disaster response. The earthquakes damaged and collapsed homes and schools, knocked out power lines and water supplies, and triggered landslides. They left over 300,000 people without water in their homes and thousands of families homeless.
In response to the disaster, LifeStraw's Social Impact Manager traveled to Puerto Rico with a team from the University of Rochester and the grassroots organization People 2 People 4 Puerto Rico, to deliver LifeStraw filters and other donated supplies to affected areas. The team delivered LifeStraw Family and Community purifiers to displaced families in makeshift shelters and camps, trained the staff of a local university hospital on the use and maintenance of the LifeStraw Community purifier for them to bring along on their mobile outreach brigades to impacted communities, and delivered filters and other products to local organizations to distribute to families in need. In total, LifeStraw distributed six LifeStraw Community and 120 LifeStraw Family purifiers to help make a small dent in the large need that Puerto Rico is facing.
Western Kenya
Photo Credit: Daniel Olubero (LifeStraw)
In April 2020, weeks of heavy rains in Western Kenya caused significant flooding and landslides, affecting over 233,000 people and displacing 116,000 from their homes. The heavy rainfall increased the risk of disease outbreaks and hampered efforts to contain the COVID-19 pandemic. Many displaced individuals are living in temporary camps, where over 70% lack adequate access to safe water. Soon after the flooding, the Kenyan Ministry of Health reported a cholera outbreak in parts of the northeastern region. The LifeStraw Kenya team worked tirelessly to distribute 54 LifeStraw Community purifiers to 22 different locations where displaced families were sheltering
LifeStraw's Area Coordinator, Dan Olubero, reported on his experiences from the frontlines. Additional thanks to our local partner, Anglican Development Services Western, who supported the displacement camps with logistics and supplies.
India
Photo Credit: SEEDS India
In May 2020, Cyclone Amphan, a powerful and deadly tropical cyclone, caused widespread damage, displaced as many as 500,000 families and killed over 90 people in Eastern India and Bangladesh. LifeStraw, in collaboration with longstanding partner, SEEDS India (a local disaster response and community development nonprofit), and funded by PEPSICO, distributed 132 LifeStraw Community purifiers to shelters and affected communities. SEEDS has also launched a crowd-funding campaign, which aims to fund 300 more purifiers, as well as other needs such as shelters, clothing and health care supplies, for Cyclone Amphan rehabilitation.
El Salvador
On May 31, tropical storm Amanda hit El Salvador, as the country also battled rising COVID-19 cases. High winds, heavy rains and severe flooding damaged over 30,000 homes and killed over 25. The pervasive violence in many communities of El Salvador has also weakened the provision of health services, putting many families at even higher risk for both COVID-19 and illness from affects of the storm. LifeStraw, in partnership with Convoy of Hope and a local grassroots organization, shipped down and will be distributing 13 LifeStraw Community purifiers to shelters and other central locations to ensure access to safe water for displaced families.
Cox's Bazaar, Bangladesh
Photo Credit: Friendship NGO, Bangladesh
Cox's Bazaar is home to the world's largest refugee camp, where over a million displaced peoples live, the majority of whom are Rohingya who have fled systematic genocide in their home country of Myanmar. On top of the extreme overcrowding, many have resulting underlying health conditions that leave them especially vulnerable to COVID-19; as of July 15, 58 refugees have tested positive and six have died. In addition to the pandemic, refugees in Cox's Bazaar have been severely impacted by the climate crisis and resulting natural disasters. A 2018 World Bank Report predicted that if greenhouse gas emissions continue, "Cox's Bazaar will be the worst hit district in South Asia as average temperatures rise and rainfall patterns become disruptive. June through August is monsoon season, and the region has been experiencing extreme flooding, putting the community at further risk for disease.
LifeStraw donated and distributed through our local distributor in Cox's Bazaar, 29 LifeStraw Communities to Friendship NGO, a local woman-founded organization to provide safe water access to health clinics in advance of potential outbreaks caused by the Monsoons.
COVID-19 Response
COVID-19 has magnified issues of water insecurity among low-resource communities both in the US and globally. For the 3 billion people who lack water and basic handwashing facilities in their homes, frequent handwashing, one of the main ways to prevent the spread of the virus, is nearly impossible. Social distancing and shelter-in-place orders have caused significant disruptions in people's access to their most basic needs. Many families fetch their own water, which involves close proximity with other individuals. Even trips to the grocery store to purchase bottled water puts people at risk for contracting the virus – and that's assuming the grocery store has water in stock! And 2.2 million people lack access to safe drinking water; dehydration and comorbid waterborne diseases can lead to poorer outcomes from COVID-19.
Western, Kenya
Photo Credit: Gerald Adhaya (LifeStraw)
During normal times, LifeStraw's 40 full-time staff in Kenya are charged with year-round education, coordination, implementation and support of our ongoing Give Back school programs. But when COVID-19 hit, and schools were closed and communities were placed on lockdown, our local staff (safely!) sprang to action. They have been busy responding to the pandemic and supporting their communities in a number of ways, including:
COVID-19 community sensitization, including education on the importance of masks and social distancing
Installation of handwashing facilities and tippy taps (using jerry cans made from recycled LifeStraw purifiers!) in health facilities and communities
Training on proper handwashing techniques
Education on safety during visits to health facilities
Partnerships with youth groups to promote WASH
Disinfection of communal spaces (open markets, bus stops, etc.)
Ensuring sufficient water points in public areas
Provision and distribution of food, soap and reusable masks for communities in need
Maintenance of LifeStraw Community purifiers in health facilities to ensure access to safe water for staff and patients
Navajo Nation
Photo Credit: The Johns Hopkins Center for American Indian Health
For many Native American families, the precarious situation of poor access to safe water has been exacerbated by the current pandemic. Between 30-40% of families on the Navajo nation do not have running water in their homes. When COVID-19 struck the reservation, and the communities were forced into a strict shelter-in-place order for months to slow down the rate of transmission, families there had to balance shelter-in-place orders with the need to bring back water for their families. Compounding this problem is the fact that the Navajo Nation is a food desert – there are fewer than 15 grocery stores supporting over 200,000 individuals, and during the pandemic stores have had even more limited supplies, including bottled water.
Over the last few months, LifeStraw has partnered with several organizations to help provide safe drinking water to Navajo Families. The Johns Hopkins Center for American Indian Health is delivering 70 donated LifeStraw Family filters to households that lack running water or do not trust their water enough to drink. In partnership with the Indian Health Service, their team has identified and prioritized families with elders, children, mothers and/or expectant women. Rez Refuge, an organization focused on Navajo youth development, has also used its existing network to provide LifeStraw filters to at-risk households, as well as several LifeStraw Community filters to local partners, including the Manuelito Navajo Children's home, which serves local families and children. LifeStraw also donated 250 Go bottles to Bioneers Native Youth Leadership Program (many of whom have families affected by COVID, including loss of jobs and income, and also lack access to safe water​.)
Unsheltered Communities
For the hundreds of thousands of individuals experiencing homelessness across the United States, orders to stay home are impossible to meet. And as unemployment rates sore due to the pandemic, and rent and mortgage payments are due, the number of unhoused individuals is going to surge. Additionally, in many cities, jails and prisons are releasing thousands inmates in an effort reduce facility populations and slow the spread of the virus – but with little to no provision of resources or support to transition back into society, many are winding up on the streets. And now, with stores, restaurants, libraries and other public places having had to close their doors due to the pandemic, many unhoused individuals are unable to access safe drinking water.
LifeStraw has partnered with several organizations supporting individuals experiencing homelessness. The UCLA Student-Run Homeless Clinic provided care packages, including 80 donated LifeStraw Go bottles, to unhoused patients and community members. Morongod Collective, an organization in Salt Lake City, Utah that bridges the gaps between individuals in-need and those with resources to help, has been working one-on-one with people experiencing homelessness to identify solutions that respond to their individual needs. LifeStraw has donated 40 LifeStraw Go bottles to support efforts. And Operation Address the Homeless, in Allentown, PA, has installed several LifeStraw Community purifiers in local homeless 'tent cities' (check out their innovative LifeStraw Community lock-box!).
Guinea Worm Response
Photo Credit: the Carter Center
In 1994, LifeStraw partnered with the Carter Center to design a simple mesh filter to remove Guinea worm larvae, the cause of the incredibly painful and potentially deadly Guinea worm disease, from drinking water. At that time, there were more than 100,000 cases in 18 countries spanning Africa, South Asia and the Middle East. By the end of 2019, there were only 53 cases reported in just four countries.
Each year, LifeStraw works with the Carter Center to identify the remaining communities at-risk for Guinea worm disease, to ensure they have access to proper prevention techniques. In 2020, LifeStraw has been working to manufacture and donate over 390,000 Guinea worm filters to the five remaining countries (South Sudan, Ethiopia, Chad, Mali and Angola) with the disease still present.
Other Humanitarian work and partnerships
Volta Revival Foundation
Photo Credit: Volta Revival Foundation
LifeStraw has recently partnered with the Volta Revival Foundation, an NGO that empowers small communities along the Volta River in Ghana, and works to combat local child slavery. Nearly all the communities in the region depend on the Volta River and Lake for all of their water needs. A number of studies have demonstrated significant contamination in these water sources, and many families site high rates of waterborne diseases. In early March, LifeStraw and Volta Revival Foundation piloted an initial project to provide 11 donated LifeStraw Family filters to 11 families, to provide safe water to over 80 individuals. Local staff performed an initial needs assessment to identify families at high-risk, held a stakeholder training workshop, and did house-to-house installations and consultations with each family. Later this year, or when schools finally open up, LifeStraw and Volta Revival will be scaling-up the safe water project to six local schools and the surrounding communities, to reach over 1,130 students and 12,700 local community members with safe water.
Village Level Water Treatment
Photo Credit: LifeStraw
The Myanmar team has piloted a new village level water treatment facility model utilizing the LifeStraw Community purifiers. With this model, 10-20 units are placed in a specially designed room; dirty water is then pumped from the nearby open overhead tanks, fed into the purifiers to filter out contaminants, and stored in large clean tanks to provide safe drinking water for the entire village. This model has been piloted in over 10 villages, reaching 200-300 households per village.
Other Humanitarian Partnerships
Through partnerships with and humanitarian sales and support to governments and local and international nonprofits, LifeStraw has provided safe water to over 355,000 people across Africa and Asia.
Diversity, Equity and Inclusion
LifeStraw stands in solidarity with our BIPOC communities. We are committed to supporting organizations at the forefront of this fight against the police brutality and systemic racism that pervades the United States and the world. This meant an initial contribution to the NAACP Legal Defense Fund and to Color of Change. We are also continuously re-evaluating our own internal processes and committed to doing the hard work that it takes to be truly anti-racist, both as a company and as individuals.
We are also committed to ensuring that the outdoors becomes an inclusive space. When COVID-19 pandemic impeded many normal hobbies and social distancing became a norm, many people took to the trails. But this also highlighted the truth that for far too long, the great outdoors has been a space consumed by privilege, often accessible to only wealthy, white, able-bodied folks. We have, and will continue to support and amplify a diverse set of voices at the forefront of intersectional environmentalism and diversifying the outdoor space.
To learn more, read our statement, take a look at our blog series, checkout our social or watch the amazing anti-racism workshop in collaboration with Diversify Vanlife and facilitated by Denisha "Neena" Jenkins.
Planet
Photo Credit: Mathieu Le Lay
As a public health company first, we also understand that the health of the planet has direct impact on the health of its inhabitants. That's why we're also on a mission to reduce the amount of plastics in our supply chain, in our oceans and in our bodies. This year we completed our first carbon audit, and offset those emissions through our partnership with Climate Neutral. We have transitioned fully to molded pulp packaging for our LifeStraw Go and LifeStraw Universal products, and are halfway to eliminating all plastic from our packaging. We've also committed to improving our consumer recycling of LifeStraw products, by improving recycling messaging through our new partnership with How2Recycle, and a plan to implement a customer recycling 'how to' on our website. And we continue to support organizations like the Conservation Alliance, that are committed to protecting our planet.
Thank you to our global staff, partners, friends and collaborators.
(For which, the work would be impossible without) Check them out and give them a follow if applicable.
Note: A lot of the organizations we work with are small and local and therefore may not have social media handles or even websites...
Partners in the United States:
The UCLA Student-Run Homeless Clinic
Operation Address the Homeless
The Johns Hopkins Center for American Indian Health
Bioneers Native Youth Leadership Program
University of Rochester
People 2 People 4 Puerto Rico
Convoy of Hope (for work in El Salvador)
Partners in Africa:
Volta Revival Foundation (Ghana)
the Carter Center (for work in South Sudan, Chad, Ethiopia, Mali & Angola)
Anglican Development Services Western (Kenya)
Partners in Asia:
Friendship NGO (Bangladesh)