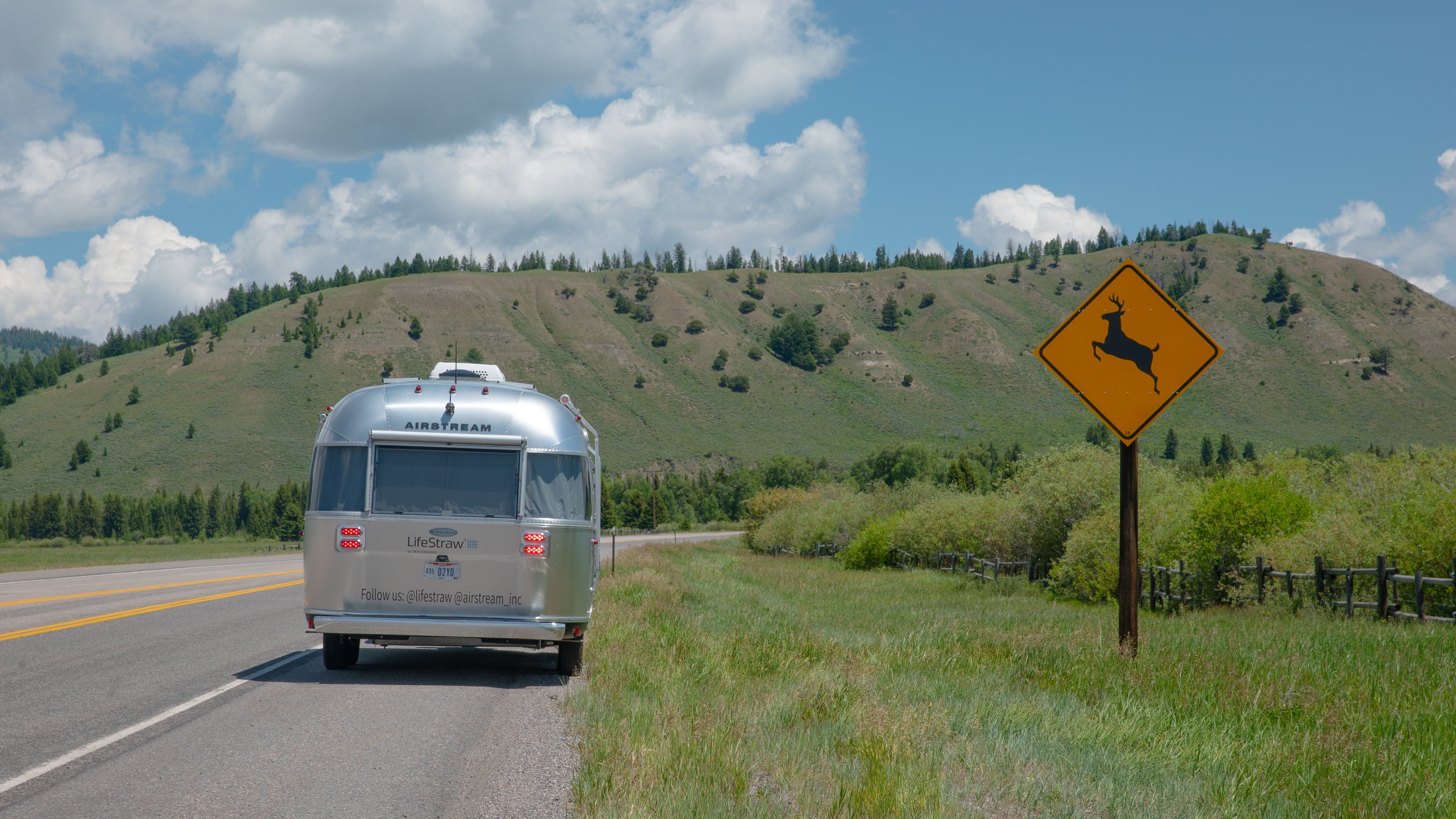 ENVIRONMENT & SUSTAINABILITY
Striving for Sustainability on the Road
August 15, 19
By Andrea Loeffler, Clean Water Across America Ambassador
We've driven nearly 2,000 miles and passed through 9 states already on the #CleanWaterAcrossAmerica tour. I've seen a fair amount of the country and there are still several weeks to go. While I've called the west coast home for more than a decade, I actually grew up on a farm in Vermont. My family used wood to heat our home during the winter, raised chickens, pigs, and sheep for meat and grew vegetables in the garden during the summer. I spent my childhood roaming the forests and meadows on my family's property. It never really occurred to me whether I was "in touch" with nature. I lived in it and interacted with it without giving it too much thought. As a teenager, I longed for the city and something different from the rural woods of my childhood. I spent time in Tanzania, Portland, and New York City, but the Green Mountain State had already worked its magic, instilling in me a love of nature and an appreciation for something larger than myself. In the years since then, I've worked to maintain my connection; but more than that, I've also wanted to encourage others to have a curiosity about the natural world. This trip has provided an avenue for that.
Being on the road, I can't help but compare the places I'm traveling through to the city I've called my home for the past 8 years. San Francisco is a unique city in many respects. It has a history of weirdness, acceptance and radicalism as well as environmentalism. It's become so normal to me to compost all my food scraps, that for the first month of the tour, we kept everything from banana peels to coffee grounds in bags in the freezer, in hopes that we might come across someplace that would accept it. Sadly, the last spot we found to do this was in Salt Lake City with a childhood friend of mine who had her own backyard composting setup.
Unfortunately, we had to abort the composting mission, but we have acquired other conservation skills. Living in the confined space of a 25 ft Flying Cloud Airstream, I've become acutely aware of my consumption on many levels. I know how long our water tank will last, how many showers, toilet flushes, and rounds of dishes we can do before we'll need to refill. I know how long it takes for our solar panels to charge when it's cloudy out, and what's possible when our battery flashes to let us know that we're down to our last 15%. I see everything that goes into our garbage, and how long it takes us to fill up the only little trash can we have in the whole trailer. It's 2 gallons and it takes us more than a week before we have to empty it. Just think of the size trash cans that San Francisco and many other cities use for weekly trash service. I think they are 50 gallons or possibly more!
Being on the road isn't inherently sustainable, but you can make green choices regardless of whether you hang your hat in a converted van, a shiny Airstream, a condo or a farmhouse. I haven't done all the specific calculations, but my sense is that my carbon footprint is actually smaller this summer being on the road and here is why: I am so much closer to my consumption in all forms -- of fuel, water and electricity. At home in San Francisco, I don't regularly compute the gallons of water I use or how much gas I use while cooking. But that has become a daily practice on the road this summer. While it can certainly be tedious or downright frustrating to keep track of everything, running out of water while you're all soaped up in the shower is an important lesson. And that awareness really permeates all areas. I resented it at first, but I'm grateful for it now. Plus, we've learned that camping by a lake can alleviate some of the water woes, a quick dunk is as good as a shower. Who needs soap? ;)
Living in a city, it is so easy to distance yourself from consumption. Someone else picks up your trash, water flows freely into your home as does an endless supply of electricity. Eight weeks on the road has put me in touch with my complete footprint in a whole new way; I have increased awareness about everything from gasoline to fuel the truck, water for showering and flushing to electrical current and packaging for food and beverages. While we certainly indulge in the occasional sparkling water, kombucha, or adult beverage, we've got our water needs covered. I can honestly report that we have not purchased a single plastic bottle of water. In the car, we use our reusable LifeStraw Go bottles, in the Airstream we use the LifeStraw Home glass pitcher, and the LifeStraw Flex and LifeStraw Steel are staples in our hiking packs. With the whole fleet of LifeStraw products in tow, we are staying well hydrated, which is important wherever you live.
As we head towards the east coast, we've got a few weeks left on the tour. But I feel pretty certain I will take my new found appreciation for water, power, and my personal consumption of resources with me all the way back to San Francisco. There's always more to learn; meeting other folks who live on the road has been really fun and informative. The #vanlife community is full of so many inspiring renovations, travel stories, and amazing adventures. The road is calling to more and more people, and having less of an impact on the earth is a big part of that. Happy trails and safe travels. See you out on the road!